The Dental Suite
102 Spindrift Ave,
Isle of Dogs
London
E14 9WU
https://www.dentalsuitedocklands.co.uk/images/logo.png
20753 69027
£

£
Isle of Dogs
020 7536 9027
The Dental Suite

Extremely professional from the booking receptionist to the actual treatment, I could not have chosen a better dental clinic and dentist. I am so happy after today's surgery, feeling so confidant again. i'm very satisfied.


Do you or your partner suffer from breathing difficulties during sleep such as snoring or obstructive sleep apnoea? You might be pleased to know that dentistry may have a solution for you. A variety of oral devices or mouthpieces are now available that will address your snoring problems. By preventing the lower jaw from dropping back during sleep, these devices can prevent the closure of your airways, which will stop you from snoring. Your dentist can fit one of these for you. Here is how the treatment works:
1

A custom-made mouth piece is made from impressions taken of your teeth to ensure they fit you comfortably.

2

Made from a hard wearing plastic, the mouthpiece is worn at night and works by holding the bottom jaw in a slightly forward position.

3

This position opens up your airway significantly, allowing you to breathe better and as a result sleep better too.
Life Benefits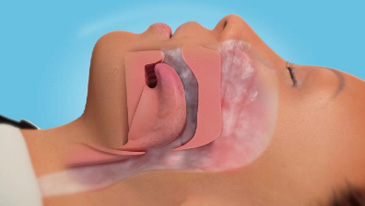 Better quality of sleep due to undisturbed breathing.
Improved overall health due to better quality of sleep.

Back to Treatments
Contact Us